"BEETHOVEN, BRAHMS, MAHLER" IS AVAIALBLE FOR PRE-PRDER ON ITUNES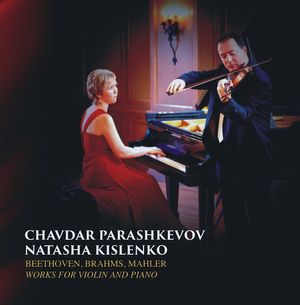 "Beethoven , Brahms, Mahler" is the second studio album by the Violin/Piano duo 
Chavdar Parashkevov and Natasha Kislenko. It is set to be released worldwide on May 31, 
2018, by Chavdar Music. In this album, following the idea of their first critically acclaimed 
CD "Russian Sonatas," the duo recorded well-known compositions for violin and piano 
next to newly discovered obscure classical gems. 
Two violin and piano sonatas, Beethoven op.30 no.2 in C minor and Brahms op.78 in G 
major, form the core of the album. However, the highlight is Adagietto, an ambiguous but 
very exceptional arrangement of the slow movement from Mahler's 5th Symphony (by 
Otto Wittenbecher). As a bonus the CD concludes with a live recording of Mahler's Piano 
Quartet, performed together with cellist Louis-Marie Fardet and violist Eliseo Rene 
Salazar. 
The album was recorded in 2017 in Santa Barbara, CA and later edited and mixed by 
Andy Bradley at the Wire Road Recording Studio, Houston, TX. Photography for the CD 
cover is taken by Dmitry Rogozhin; thorough and compelling liner notes are written by 
Kevin McBrien. To pre-order "Beethoven, Brahms, Mahler" visit iTunes or Amazon. 
The duo is planning to promote the CD with series of concerts in Europe and the USA, 
starting in the Fall of 2018. 
Release date: 05/31/2018 
Released on Audio CD and Digital Audio Formats. 
Released by Chavdar Music, CM003 
http://chavdarmusic.com 
http://youtube.com/chavdarmusic
"Parashkevov inhabits every corner of the virtuosi romancing…; His sparkling, brilliant tone and clarity of gesture create wonderful moments of light and shade…"
The Strad


"The attention to phrasing is excellent, and one can feel Parashkevov's bow strokes as they bounce along or attack the high notes with perfect precision."
Allmusic


"Chavdar Parashkevov is a Bulgarian violinist whose virtuosity is in no doubt..."
MusicWeb
 
0:00/6:26

0:00/4:57

0:00/3:30